March 22

Wine for a Beautiful Sunday – The Liquid Rock n Roll Riesling 2013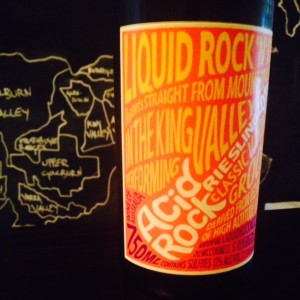 When it's as good a day in Melbourne as it is today, then I would expect there to be plenty of picnic blankets covering grass in backyards and parks all over town. And when you get weather this good there is nothing better than fielding out deep in a little game of backyard or park cricket and sipping on a delicious Riesling; they won't hit it to you.
So if that's the case why not try this little number; the Liquid Rock n Roll Acid Rock Riesling 2013 from the King Valley. Beautifully balanced acid is accompanied with bitter melon, quince and cumquat. A ripping wine for your glass where you hope it's going to be the sip that never quits.
Drink it with BBQ chicken and $23 always