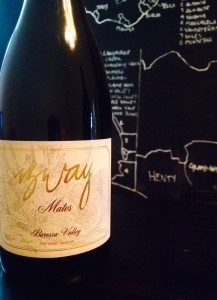 To state the bleeding obvious, winter is here and geez is it bloody cold!!! Seriously, this is the coldest winter I have had since 1997 in France – that was cold. I think the big reason for the 'coldicity' (just made a word up) is that autumn was also cold, so I guess it is 'cold2'. Now with this coldicity upon us one of the great cures is red wine, and this wine I think may just be that cure, that saviour if you will. The Izway "Mates" Grenache/Mataro 2012 from the Barossa Valley is exactly the wine that is made for cold weather. Why you ask? Just is, is the short answer. But that will not suffice.
The nose has layers of complex aromas of autumnal earth – think wet tilled earth, master stock and rich dark fruit. The palate again has complex and rich notes of mushroom soy, spice, master stock, and rich and velvety dark fruit.
It's also poring#BTG in the wine bar right now!!!
It's truly delish and $28 always