July 9

Domaine Lucci Adelaide Hills Red Sans Sulfite 2015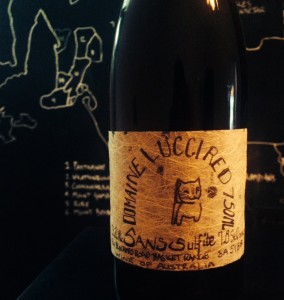 Aucun soufre, Kein Schwefel, Senza zolfo. However you say it, Sulfur free wine is hot and so now. NOW. Yes, No added sulfur is all the buzz right now with wines all about freshness and light drinkability all without the next day sulfur driven headache (no guarantees after the 4th bottle though).
The Domaine Lucci Red 2015 is all of that and more without the stink and falling over trick a lot of no added sulfur wines can deliver. This is a real wine. The nose starts out with an almost unfermented grape juice waft, but after a while opens up with a very savoury, almost tapenady aroma. The palate opens up with bright cassis and earth and like the nose, leans more to the savoury path to wards the end of the glass.
Wine. It's a living thing and with no added sulfur is very much living on the wild side. Get in early though because this wine is here for a good time and not a long time and is $23 always