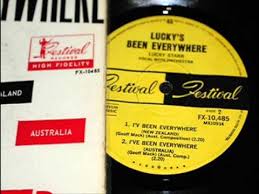 Yay!!! Our site is back after some gremlins were shooed away.
A couple of Monday's ago I was humming "I've been everywhere man" when all of the sudden I started substituting places for wines. With this I started scribbling lines and the next thing you know, well yeah, I got this. Just a little bit of fun….
Well I was a-windexing the fridge door windows
When along came a parent stringing along two minnows
"I hope you can help me" he said, "I'm a looking for a wine."
"No worries" I said, "I can do this windexing another time.
Now tell me about that wine?"
"That's the thing" He said, "I can't remember what it was,
But if you've got some recommendations. Whaddyagot?"
I had a thought and I had a think, then I said, "Well I've got
Every wine man, I've got every wine. I've got red and white and
Orange and bubbles from all across this land. I've got all sorts from
Here and there and everywhere plus a little in between."
Could it be…
Pinot Gris, Pinot Blanc, Pinot Noir, Pinot Grigio, Pinot Auxerois,
Pinot Nero, Pinot d'Alcase, Pinot Meunier, Pinot Pinot, Pinot New,
Pinot Now, Pinot South; think I gotta pimple on my tongue!!!!
"It may have been a shiraz. Have you got one from…."
Eden Valley, Barossa Valley, Upper Hermitage, Lower Hermitage,
Cherryville, Lenswood, Brokenwood, Birdwood, Ballannah, Hahndorf,
Coonawarra, Penwertha, Poonawatta, Wrantanbully,
Watervale, McVale, Willunga, Aldinga. Need-a-drinka?
"Maybe it was a chardy…."
Possibly from Piccardilly, Whites Valley, Margaret River, Nicholson River,
Beechworth – which they're worth. Mornington Peninsula, Bellarine Peninsula,
Geelong, Wyong – why not, Macedon Ranges, Lofty Ranges, Tumburumba has a number…
"Then again, could have been a Savvy B…"
From Marlborough, Martinborough – undercover? Perhaps Picton, Havelock –
Around the clock. Could have been Adelaide Hills, Pemberton, Mt Barker, Mt Marthur –
Or Arthur? Even Porepunkah, Bannockburn, Rockburn. Chinese Burn?
"I think it might have been a rosé"
From Heathcote, Glenrowan, Yea – or nay. Couldabeen Pyrenees, Languedoc,
Moorooducc. Plucka duck? Swan Valley, Hunter Valley, Yarra Valley, Cotes du Rhone,
Goats do Roam?
With all that the fella scratched his chin, had a think then said, "Do you have any…."