September 15

Byrne Pyrenees Blanc de Blanc 2011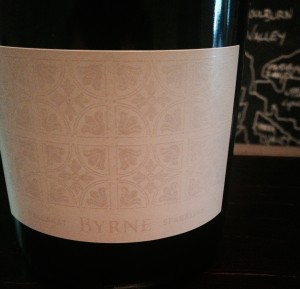 It's very safe to say that Byrne wines have the best labels in Australia. Who else creates a fuzzy, flocked, crushed velvet like label I ask? It's like a Dave Graney smokers jacket. It's just ACE. Not only are the labels ACE, but most importantly the wine too is smoking hot; smoking hotter I reckon.
The Byrne Blanc de Blanc 2011 from the Myola Vineyard in the Pyrenees is Alexander Bynre (a newly moved in Brunswick local) first foray in to sparkling and what a debut it is. Crisp citrus notes on the nose are followed after a while by ginger bread and floral notes. The palate has a lovely soft bead that lends it's hand to more soft ginger bread, citrus and green apple notes. Just smashing.
The production of this is very small and as usual, the really, really good things are only here for a good time, not a long time and always $45