September 11

#TimeToTaste – New Rosé's and Rieslings on tasting Saturday September 12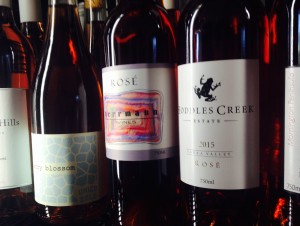 "When daffodils begin to peer,
With heigh! the doxy, over the dale,
Why, then comes in the sweet o' the year;
For the red blood reigns in the winter's pale.
The white sheet bleaching on the hedge,
With heigh! the sweet birds, O, how they sing!
Doth set my pugging tooth on edge;
For a quart of ale is a dish for a king."
William Shakespeare, The Winters Tale 4.2.1-8
You can just imagine old Will sitting down and sipping a ripping glass or two of Riesling or Rosé when he penned that lovely ode to Spring can't you.
Oh what a gorgeous day it is today, yet tomorrow is shaping up to be even better. So take advantage of this beautiful weather (while it lasts, because this is Melbourne) and swing on by the WINE STORE | WINE BAR tomorrow from 2-5 for a cheeky tasting of  some new release Riesling's and Rosé's.
See you at the bar!!!