January 20

The Boss and Wine – "Jungleland" and Noelia Ricci Emilia Romagna Sangiovese 2014

Jungleland and Noelia Ricci Emilia Romagna Sangiovese 2014 

What a song. What a story. What passion. And what a wine!!!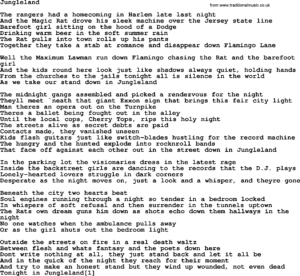 Seriously, one of THE greatest songs ever penned. And I'll dare anyone to argue that. Like all of Bruce's music, this is filled with hope and despair with lyrics evenly beautiful and tragic all at the same time. Shakespeare would have killed for the Bosses prose back in the day.
"There's a ballet being fought out in the alley", and "Outside the streets on fire in a real death waltz". And my fave line, "Soul engines running through a night so tender in a bedroom locked in whispers of soft refusal and then surrender…." Insane beauty.
And then there is a wine. A beautifully layered wine of earth and spice with soft red fruit. What's it got to do with Jungleland you ask? Well like the song, this wine has heaps of passion, and well, it's also long. Long in the palate that is….