It's got that feel about this weekend, like this is practice for the Autumn we are all probably looking forward to. Yep, it's going to be chilly this weekend and that can only mean one thing. Red Wine Time!!!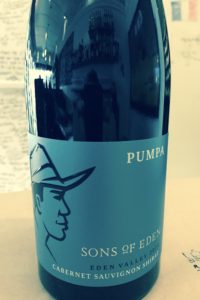 And what red to drink you ask? Well, lets go back in time a little shall we. It's the early naughties, say 2002. The Euro becomes the currency of choice for 12 EU countries, George W gives his now famous "Axis of Evil" speech, the Brisbane Lions win the second of their 3 premierships in a row and Queen Elizabeth II bids farewell to her mother in the same year she celebrates her Golden Jubilee. But more importantly, the Aussie Blend was the wine we were all drinking. Yep, the Cabernet Sauvignon/Shiraz blend was something we couldn't get enough of.
Fast forward 15 years and it is a style that is now rarely seen around the traps. But this one is ace. The Sons of Eden 'Pumpa' Eden Valley Cabernet Sauvignon Shiraz 2014. This is a belter I tell ya!!!!!!! A combination of 80/20 Cab to Shiraz, this wine has an instant whack of mocca and dark chocolate on the nose. The palette opens up instantly with an alluring mix of cold coffee/coffee grounds, bay leaf that finishes with lovely tangy tart blackberries.
Go on, get your retro on this weekend and always $26