August 15

Meet the Maker Wine Sessions – Alex Byrne of Byrne Wines and Liquid Rock n' Roll

It's that time of the year again where all of the wine makers are back from Bali getting their hair braided and getting back to work. That means another season of our "Meet the Maker Wine Sessions". And what better producer to kick the new season off than Alex Byrne (one of the Wine Stores best mates too-boot) of Byrne Wines and Liquid Rock n' Roll.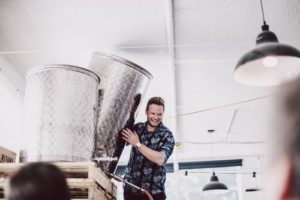 Alex studied Wine Science at Deakin and Charles Sturt Universities while continuing to work in retail wine sales as well as working vintages in Margaret River and the Northern Rhone Valley while studying.
After his studies were done and dusted, Alex worked in Burgundy before returning to Australia to work at Lethbridge in Geelong so he could get ready to do his own thing and begin making wine under his own label – Byrne Wines
In 2013 he and his friend Kim Farrell formed Liquid Rock n Roll wines in order to experiment with different styles of wine.
So make sure you swing on by the WINE STORE | WINE BAR this Saturday from 3-6ish and have a wee sip of some of the stores fave wines.