November 14

Rosé Tasting – 'Strayan Style

It certainly is that time of the year when the go-to wine in the fridge – or the chilli bin – is definitely a Rosé, or Rosie as we like to call them here.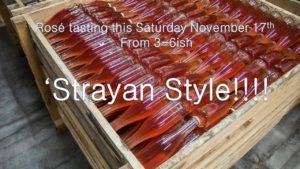 Now we all know that the French make some pretty ACE Rosies and they are pretty much the benchmark for all Rosies. But we here in Australia also make some pretty smoking hot Rosies too, so this Saturday we will be opening about 7even 'Strayan Style Rosie's for you all to have a wee look at and see how we do it here.
So make sure you make some time and pop in to the WINE STORE | WINE BAR this Saturday, November 17th from 3-6ish