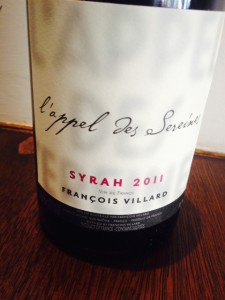 Very rare do things stay the same. We change our hair style. We become a vegetarian. We decide to eat meat… again. Did you know that as we get older our flavour receptors (taste buds) change? But don't fear, age-related sensory change is not known to limit wine tasting ability but actually fine tune the ability to taste certain flavours. Science is ace.
I reckon it was about 5 years ago that a flavour jumped out from the glass and whacked me in the chops!!! I was stunned. Was I really tasting that? The that was black olive, or more to the point, olive tapenade. This pops up in a lot of cool climate Syrah's (Shiraz) and some Pinot Noir's. For me anyway.
Now the wine that does it the most and a wine that is frequently found in my recycle bin is the François Villard 'L'appel des Sereines' Syrah 2011. Coming from fruit primarily from Cornas in the Northern Rhône, this wine is tart and raspy, but no so raspy that it is just a boring dry red wine. Oh no indeed. Like I said before; olives, black olive tapenade. It's swimming in the stuff I tell ya!!!
The nose has quick lifts of blackberry and earth which slowly gives way to the black olive goodness. The palate is an instant hit of tart blackberry and black olive which builds and builds and builds. Stop reading this and just get it!!!
Ace with smoked eggplant or chilli concarne and $27, always