Yesterday marked the first day that the store was open but I wasn't here; sort of strange but nice to have a sleep in I guess. Now the one thing I have missed since being here everyday (and yes, my family of course) is cooking. I love to cook. And I love slow cooking. Love it, love it, love it.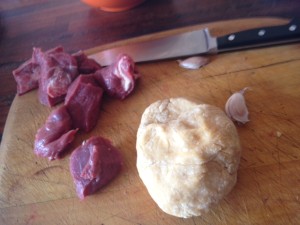 Something else I love is pasta. Home made pasta that is. Usually when I make pasta at home I would usually have Henry, Little Red #2, helping me out. Yesterday I had both Little Reds due to both being home from school with a lurgy. So both had to help. Yeah, what could go wrong? Not a lot I'm happy to report and the end result was a bench full of pasta.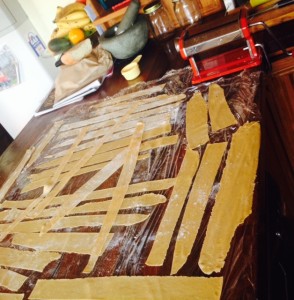 Next thing to sort was to brown off the meat in some white wine; just your garden variety chuck/stewing steak. Once done add soaked cep mushrooms, bacon lardons, bay leaves and a handful of rosemary and pretty much walk way for about 4 hours.
The end result is a gorgeous pot of slow cooked meat that everyone in the family will eat, especially the kids because they helped put everything together.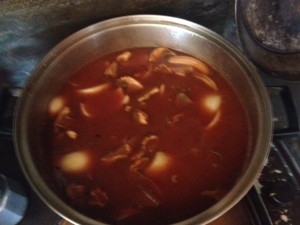 But the meal isn't complete without wine, and with a meal this hearty and rich the wine needs to be able to be big enough to standup against such robust flavours. The Cavallotto D'Alba Dolcetto 2012 from Piedmonte Italy. I really love Dolcetto, but don't let the name fool you; she aint sweet!!!. This wine is earthy with dark tart black fruit, spice, savoury bay leaf notes and effortless acid and tannin structure. An absolute Sussan – you know, 'This goes with that at Sussan' – with my Corsican Stew and $38 always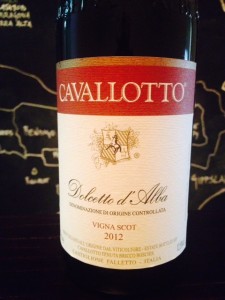 Ingredients & Method for Corsican Stew and home made pasta:
Pasta
3 x eggs
1 1/2 cups plain flour
pinch of salt
combine eggs, flour and salt and mix until firm but doughy. Roll out in small batches and lay out to dry on a non-stick surface. I cling wrap the bench.
Corsican Stew
1 1/2 kg of stewing beef
200 grams bacon
40 grams cep/porcini mushroom and 2 lites of water
450mL white wine
2 x bay leaves
A handful of rosemary
2 pinches of cinnamon
100mL pasata
3 x cloves of garlic
3 x onions, quartered
In a large plastic bowl soak porcini/cep in boiling hot water for 30 minutes. Cut the beef in to large chunks and brown in small batches. De-glaze pot after each batch with white wine. Do the same with bacon. Add remaining ingredients as well as liquid to soak mushrooms. Top with water/stock to the top of the pot. Bring to boil then immer until reduced. There should be plenty leftover for a few leftover lunches I reckon. Having some now actually; it's delish!!