It was very deja vu like yesterday. Day off. Cooking Slow. Kids sick. At home. Again!!! Bloody heck. But all was well and the house was quiet with movies, an open fire blazing and yum aromas from the kitchen.
Chicken Pie. My theory with pies is if you are going to put a lid on it, put something below it too; pastry all over. That means if you are making short-crust pastry you gotta make double.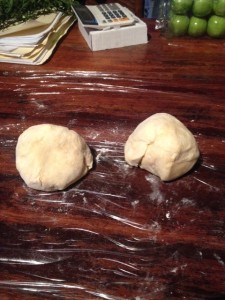 And when you are making said pastry it is always better to have a food processor to mix the butter and flour because if you do it by hand you are more likely to melt the butter.
So to start. Once butter and flour are blitzed, in a bowl slowly add cold water until you have a solid ball of pastry that is elastic like in texture and not crumbly. Cover and sit in fridge for about 30 minutes. Next brown whole thighs of chicken off with butter, tarragon and garlic in batches with the occasional slug of white wine to glaze and release the crusty bits.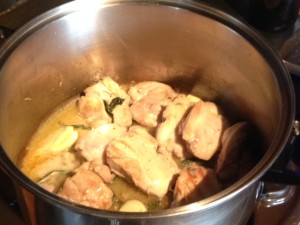 Remove chook from pot and soften leek, carrots, slippery jack mushrooms and more garlic. Throw chook back in and top with chicken stock and white wine until almost to the top of the pot. Bring to boil then reduce to simmer and walk away for about 4 hours.
About an 3 hours in grease of round baking dish with butter and roll pastry in. Make sure you have plenty to tuck in and to hang over side. Cover with baking paper and weigh down and on about 150°C for about 12 minutes. Then remove baking paper and heat on same temp for another 10 minutes until semi-hard and tanned and with that, pour the reduced yumness in and pop the lid on and brush with an egg wash and bake until golden brown. Awesomeness awaits!!!
Now with a pie like this you are going to want a wine that has punch yet finesse as well. The Benjamin Laroche La Manufacture Bourgogne 2012 from Burgundy. A Chardonnay. Pithy grapefruit and lemon aroma's waft up with a hint of stone fruit and white licorice powder and more pithy grapefruit come through on the palate. Not too big but not too skinny either. Ripping and always $37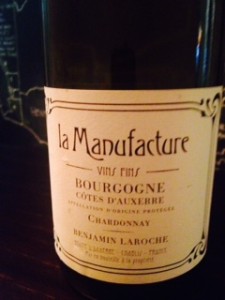 Ingredients:
Pastry
500 grams plain flour
250 grams butter
Cold water
Pie
1.2kg chicken thighs
1 big handful of tarragon
3 x carrots
1 x leek
1 whole bulb of garlic, skinned and thrown in whole
3 x slippery jack mushrooms
1 litre of good chicken stock
400 mL white wine
Salt and pepper