There is nothing better than drinking a wine and really seeing its provenance in the flavour. Me, well I'm a big wrap for wines that mimic their origin and this wine, the awesomely new Vasco's Mistress Loureiro Vinho Verde from northern Portugal is all and everything that this region is. And I love it!!!!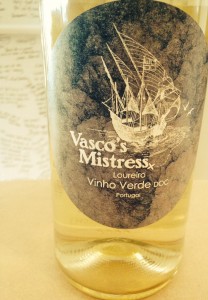 Straight away the nose throws crunchy and briney preserved lemon and bitter melon which totally  takes you to northern Portugal. The palate follows the nose with an instant hit of citrus – think lemon rind and tart comquat – and holds long with the help of lip smacking acid and white tannins. All of the fruit for this wine is grown organically with minimal SO2 used just prior to bottling, so if you want to hold on to summer just a little bit longer, this wine will do the trick.
So smashble with Fish + Chips and always $24.