The WINE STORE | WINE BAR is turning 4 on October 15th, so to mark this milestone of of the stores fave winemakers, and one of my best mates, Michael Dhillon of Bindi Wines in for a tasting. As many of you will know, Bindi Wines, and Michael who is effectively Bindi, have a very special place in my heart. And it is because of this Michael will be in the WINE STORE | WINE BAR on Saturday, October 13th from 1-4ish where he will pour his new release wines at the tasting bench.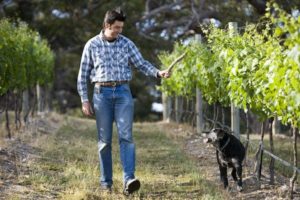 Bindi', 50 kilometres north-west of Melbourne in the Macedon Ranges, is the family property of the Dhillon family. Originally purchased in the 1950s as part of the larger grazing farm 'Bundaleer', 'Bindi' is a 170 hectare farm of which 7 hectares are planted to Chardonnay and Pinot Noir. Fifteen hectares are dedicated to managed plantation eucalypts for high grade furniture timber whilst the remainder of the land is maintained as remnant bush land and important indigenous grasslands.
The Bindi vineyard is the fundamental focus of the Dhillon family endeavors. The vineyard and winemaking philosophy is to seek balance and purity in the expression of the various individual vineyard sites and this philosophy is applied to farming and conservation at 'Bindi'; the preservation of the natural harmony.
This tasting is going to be popular so the earlier the better we would advise. On tasting will be Bindi's new releases which include all of the estate wines – Block 5, Original Vineyard and Dixon Pinot Noirs; Quartz and Kostas Rind Chardonnays and the Pyrette Shiraz from Heathcote. And what better way to celebrate our 4th anniversary then to have Michael pouring his wines. And there may also be a sausage sizzle out the back weather permitting.