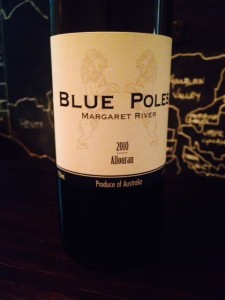 All I can say to the sheep that gave up Merlot after watching 'Sideways' is good, rack off; more for me. What a load of bollocks that was when Miles so eloquently sprouted, "No, if anyone orders Merlot, I'm leaving. I am NOT drinking any fucking Merlot!" And with that almost single handedly ruined Merlot growers around the world and had Australian Sommeliers avoiding it like the plague. Silly buggers the lot I say!!!
Anyway, where Merlot goes, so should Cabernet Franc; the Right Bank blend. And in Margaret River a wiley old Kiwi in Mark Gifford crafts a ripping blend of two thirds Merlot and one third Cab Franc and the outcome is absolutely gorgeous. Blueberries are plentiful on the nose with subtle notes of earth and anise in the background. The palate opens with more blue fruit along with soft dry tannins, more spice thanks in part to Cab Franc and subtle notes of cedar and tobacco.
Get on board the Merlot train once more: It's ACE.
Drink with bloody lamb or parmigiana di melanzan and $26 always