Every week I would probably taste anywhere between 50-150 wines that will either find a home here or not. And with every tasting I sit down with wine maker or wine rep and ask questions about each of the wines we taste; how was the vintage? how much new oak? any MLF? is it vegan friendly?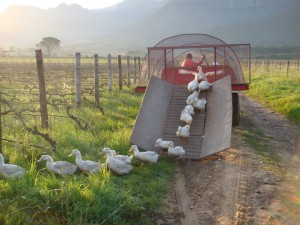 Information is king in pretty much anything we do, and information about what we eat and drink on a daily basis should not be something that is a second thought: I wouldn't buy cask wine like I wouldn't buy lettuce that has been pre-packaged.
The most frequently asked question I put to wine makers and wine reps is what vineyard strategies are in place i.e. is the fruit grown using organic/biodynamic/sustainable principles? More often than not the answer is yes. Having a degree in Wine/Viticulture Science also helps as it is a veritable mine field organic regulations. It is also important to know that vineyards do not have to get certification to use and practice organic, biodynamic or sustainable principles: there is not one grower I know in Australia who uses synthetic sprays in the vineyard. There are so many natural remedies to maintaining a healthy vineyard.
So, the wines tasted so far in 2016. Every new wine – yes, every new wine – to hit the shelves/fridge this year is either certified organic/biodynamic or users these principles. There are even some new Suplfur free wines too. And most importantly they taste great and are #TickityBooAce. So swing on by the store and have a chat about some smoking new hot wines that are new in 2016