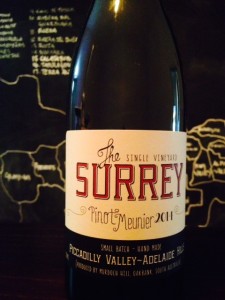 Pop quiz:
Q: Where does the name 'Meunier' come from for Pinot Meunier?
A: Meunier in French means miller, or baker. The grape has a very fine bloom on it that it looks like someone dusted it with bakers flour. So Pinot Meunier it is.
I only just saw this wine two days ago and I knew I had to get it in to the store. They only make about 100 doz, so as it says up top, here for a good time, not a long time.
The wine shall we; looking at the glass the wine, The Surrey Adelaide Hills Pinot Meunier 2014  appears to be quite dirty. This is due to no fining or filtering so one for the vegan's I guess. The nose throws a lovely elegant perfume of musk, rose petals and subtle green cap from the 50% whole bunch press. The palate opens up where the nose left off with crunchy green cap, musk stick and spice notes. Just a ripping drop.
Drink with pulled pork and $40 always