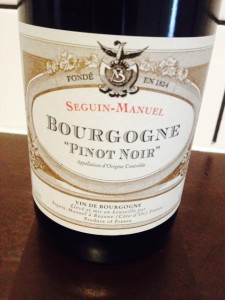 Birthdays are great aren't they? Birthdays mean it's all about you, and yeah, that's it. I'm 44 so I'm going to have some Burgundy. The Domaine Seguin-Manuel Bourgogne 2012 was the wine of choice and yep, Delicious!!!
With fruit coming primarily from Pommard – about bang on in the middles of the Côte de Beune – this wine is everything I love about Pinot Noir; earth, spice, funk and game. No Funk & Wagnalls but…
So, the wine. The nose is tight with subtle perfume, tart red fruit and hints of cardamom. The palate is deliciously sexy; spice, pan juices, and what I really loved about this wine, cold black tea on the back palate.
Yep, it's ACE having a birthday.
Drink with 2 point rib-eye roast beef (birthday dinner) and $52 Always