It's that time of the year again when most of Melbourne take a long-long-weekend and throw a buck or two in to a Melbourne Cup Sweepstake.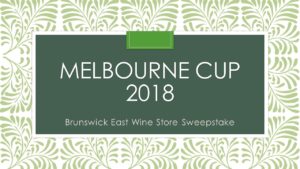 So when you head in to the WINE STORE | WINE BAR today or tomoz, you too can also throw in a buck to win something wet and ace:
1st place – $30 Brunswick East Wine Store gift voucher
2nd place – A 6ixer of the Melways 6A
3rd place – A bottle of Esme and Hubert Prosecco
And if you horse comes in last we are sure we can find some sample beers in the fridge that didn't quite make the grade.
So make sure you swing by today or tomoz so you can stock up for The Cup and grab a ticket and have a bit of a giggle with us.