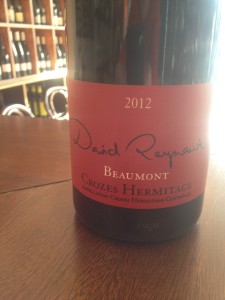 Oh Melbourne town, you certainly know how to tease with weather like today's masterpiece. The sun is out, the clouds are but shadows and the wind is no more than a gentle sneeze. We love you Melbourne!!!
So its the first day of Spring. The sun is out but it's going to be a little piccardilly tonight so lets balance it out shall we. The David Reynaud Beaumont Crozes-Hermitage 2012 Syrah is that perfect balance. And it's got precious little Sulfur so you won't have to worry about those Sulfur headaches, but can not guarantee that you won't get a headache after the 4th bottle though.
So, what does #TuesdayTastesLike then? In the glass the wine looks quite dirty in the glass but that's just because it's unfined and unfiltered. The nose is all savoury notes of earth, spice and wonderful and very pronounced black olive. Yes. Black Olive. And its delish!!!
The palate follows the nose with wonderful savoury notes, blackberry and yes, black olive. It's a ripper I tell ya and always $24