Yet another month has befallen us where a big finger is wagged at us and due to the fact that we indulge in too much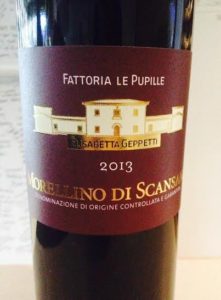 of the Joy Juice. When did we start needing causes to practice moderation? Personal accountability goes a long way in my books. But anyway, that's just what I think anywhoo. 
Starting today, July 1st, we will be showcasing 1 awesome flavour per day to celebrate 31 #TickityBooAce #TryJuly drops. If you can't beat them, join them. So without further ado the first flavour off the rank is the mouth full that is Fattoria Le Pupille Morellino Di Scansano 2013. A dominant blend of Sangiovese with little bits of Alicante and Malvasia Nera, hails from the southern reaches of Tuscany and is every little bit of why we love Tuscan Sangio's. Loaded with delicious tart Morello cherries, the palate opens a very savoury earthy tone of scorched earth – think dry terracotta – with more cherries coming to the fore but more like the rich Christmas cherries we hoe in to in December.
Just a beautiful winter red and a perfect flavour to lead off #TryJuly
Drink with Osso Bucco and always $24