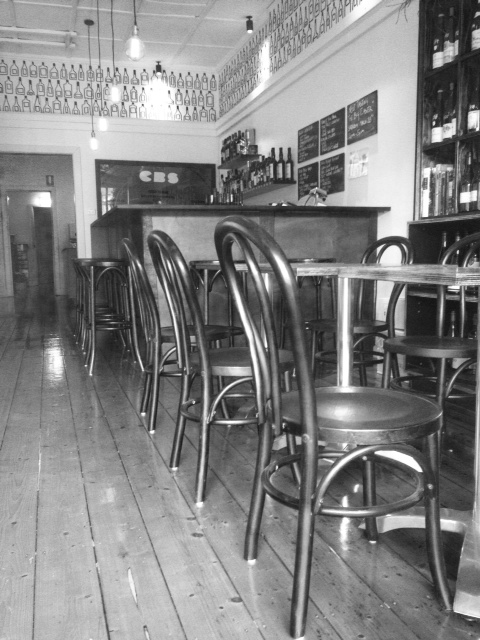 As many of you will be aware, the Wine Bar is up and running.
There are wines by the glass with beer and cider too. There's olives and blood sausage with Sardines. Cheese and cured meats and all things Tickityboo.
These are a few of my favourite things.
Yet how does it work? What is the flow? With that, here is the housekeeping that is and will take shape.
It's rather simple actually.
Wines by the glass (or BTG)
Instead of me putting together a list I will be leaving it up to you, the punter.
Every Sunday the first 4 whites and reds chosen by the punter will be poured for the rest of the week.
This will have a little consultation from me but it is all about what flavours you feel like: You can be adventurous, indulgent, reminiscent or whimsical. Whatever floats your boat (just don't make it a bloody big boat is all).
Beers by the bottle
Simple grab what you fancy from the fridge and let Tim know. To drink in it's the single bottle price with a $3 beerage on top.
Snacks
There is a short snack menu. Little bits of cheese and cured meats and all things yum. But remember, it's a snack menu. Little big serves that aren't dinner. Yet yum. Always remember yum.
The vision has always been WINE STORE | WINE BAR.
We sell ace wine and beer and the odd bespoke spirit. We also want you to enjoy a glass of wine and a plate of food but most of all we want you to enjoy what we have created – a small niche little den.
We cannot cater to big crowds and we don't take bookings because we only have a license for 20 people.
If there's 5 or 6 of you we will try and make you comfy around the tasting table in the back. In the end there needs to be room for retail and wine bar customers alike. It's a small space here yet our aim is to make you all welcome.
Welcome in our WINE STORE | WINE BAR
Our opening hours are the same as the wine shop:
Mon-Wed: 11:00 am – 8:00 pm
Thu: 11:00 am – 9:00 pm
Fri: 11:00 am – 10:00 pm
Sat: 10:00 am – 10:00 pm
Sun: 11:00 am – 8:00 pm