Lets have another look at how our wine makers in Australia manipulate and tinker with another wonderful Noble grape variety. This week we will look at Riesling – 'Strayan Style.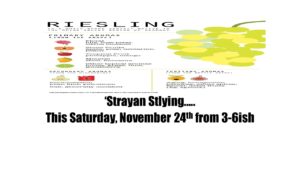 In virtually every growing region in Australia you will invariably find Riesling planted, yet with each different region you will again invariably see vastly different styles and guises of this grape due to altitude, soil, temperature and whether or not irrigation is used. And all this amounts to what we think at the WINE STORE | WINE BAR as Australia's true expression on how terroir is viewed.
So make sure you pop through this Saturday, November 24th from 3-6ish and have a look at the many different interpretations of this wonderful variety that we grow and make here.