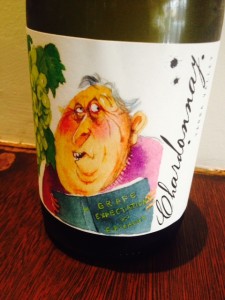 "There was a long hard time when I kept far from me the remembrance of what I had thrown away when I was quite ignorant of its worth."  Pip, Great Expectations.
This is quite poignant when it comes to a wine like this. The Valley Vignerons Chardonnay 2014 from Yarra Glen in the Yarra Valley is a chardonnay that we used to get 10 years ago but almost over night we changed our chardonnay style to something completely different and devoid of what we like and want. We did this because it was deemed cool and schick to drink racy and tart chardy. Rise up chardonnay lovers, your oaky, fleshy, plump and full chardy is back!!!
Yes its big, but it's not the sort of full butter style that you would put on toast, rather a rich stone fruit with subtle hints of butterscotch that drift along the back. The palate has a good mix of both stone fruit and citrus mingling along the tongue, but be not in doubt, it is the heady white peach that dominates in the mouth.
A ripping wine with roast chicken and always $25